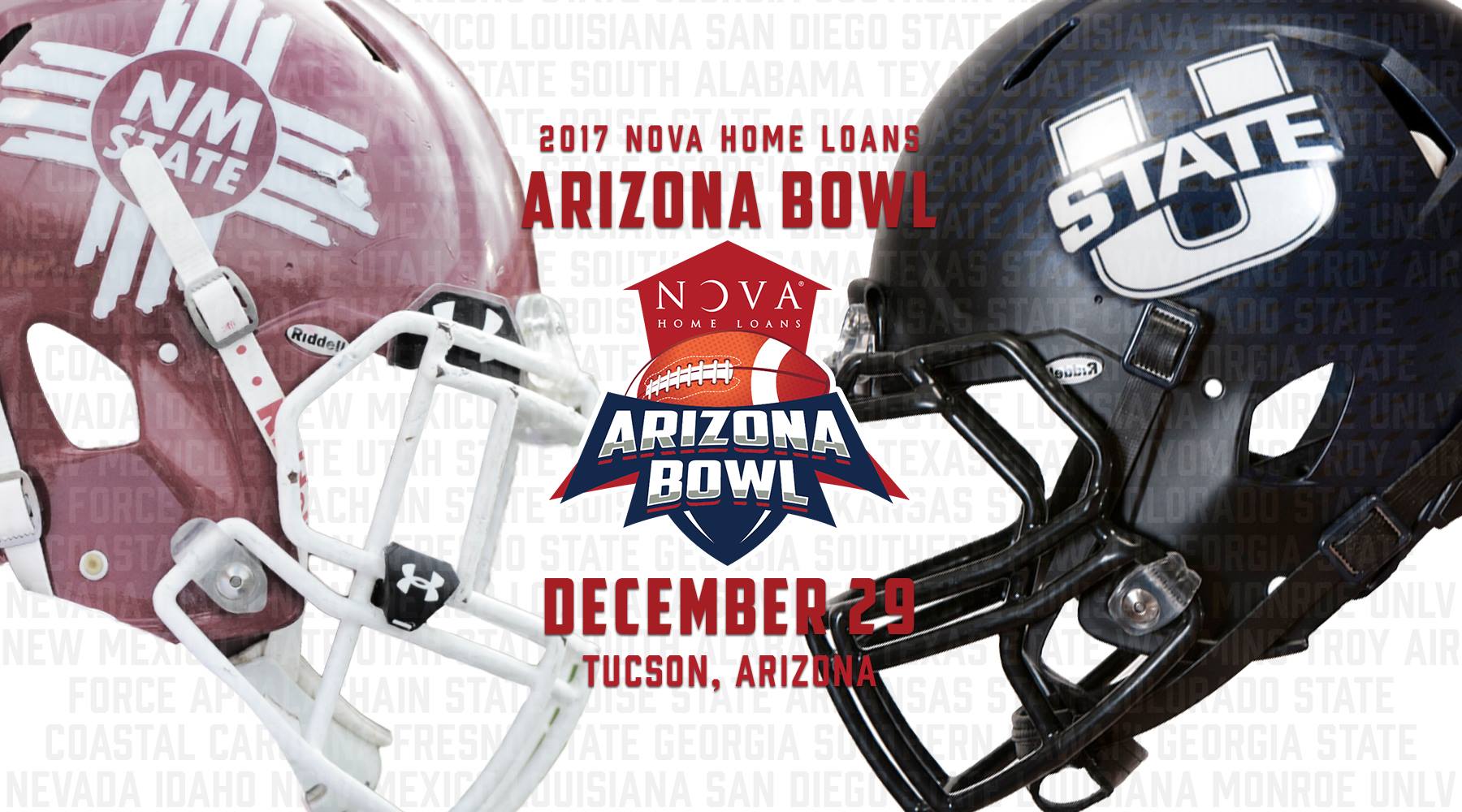 CONGRATULATIONS NMSU AGGIES!!! WELCOME TO TUCSON! (Ticket Info Here)

FOR UPDATES, SEE BOTTOM OF PAGE PLEASE!
It's been a long 57 years but we are bowling again! The excitement is through the roof. Before you pack up your cowbells and head west, here's a guide to help you figure out the whats, wheres and more.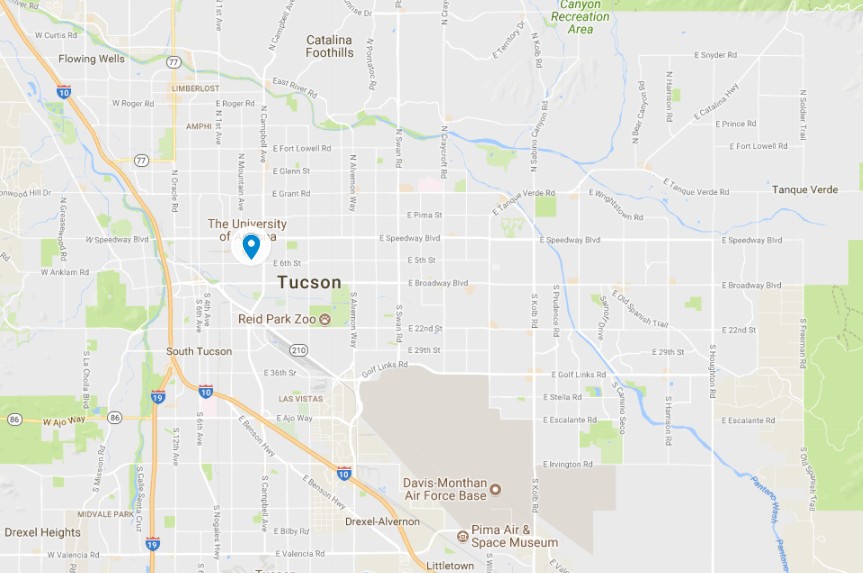 Arizona Stadium is on the south side of the University of Arizona campus, slightly west of the middle of Tucson. It seats 56,000 fans and I'm thinking that it will be overflowing with the Crimson and White. It's close to downtown, on the streetcar route (see below) as well as public transportation.
First and foremost – PARKING: *UPDATE 12/4/2017*

Parking passes will be printed by Wednesday, Dec. 6 and can be picked up and purchased at the Bowl Office – 147 N Stone. Ave. Questions? info@novaarizonabowl.com or 520-AZBOWL1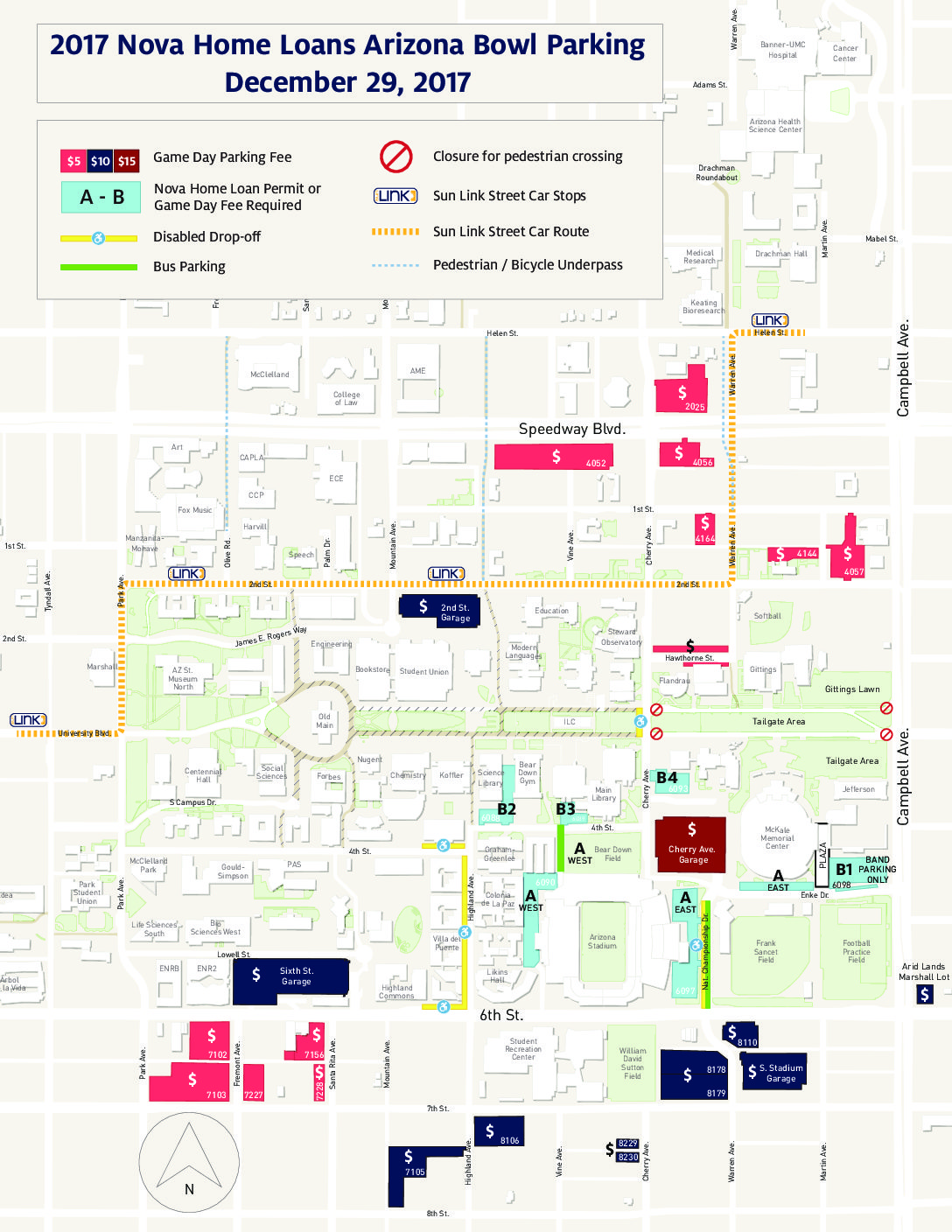 NEIGHBORHOOD PARKING: Permits are required in all of the neighborhoods around the stadium. Sometimes you'll find a homeowner or a tenant selling space on their property to park. Don't count on it.

OPTIONS: 1. Downtown Tucson has 15,000 parking spaces. Possibly one of the best options will be to park in downtown and hop on the Tucson Streetcar to take you to the festivities, as well as Main Gate Square which is just to the west of campus. It's about a 20 minute walk to Arizona stadium:You can get closer to the stadium by hopping back on the streetcar and riding to the 2nd/Highland or 2nd Ave/Cherry stop.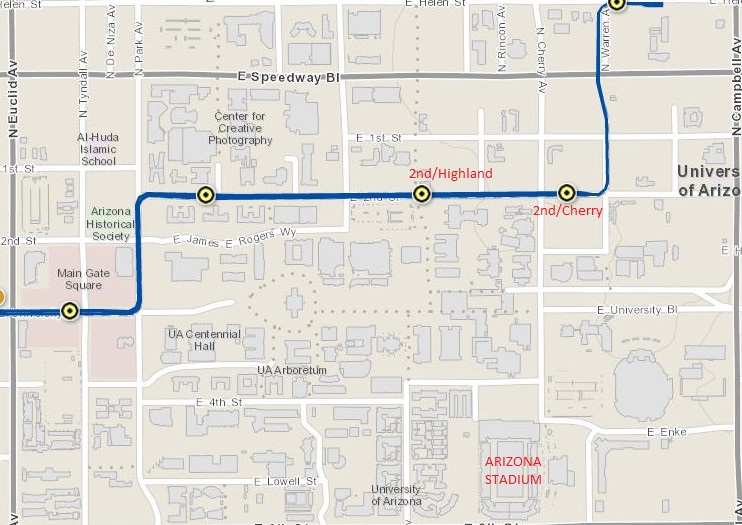 2. Grab an Uber, Lyft or a regular taxi from your hotel which might be the easiest option.

ARIZONA STADIUM POLICIES:

Along with the usual policies you see at Aggie Memorial, we also have a Clear Bag Policy.
WHERE TO STAY:

There are plenty of hotel options around the city. Tucson may look like a large, spread out town but it really doesn't take that long to get from one end to the other.

If you want to stay in downtown, we have a brand new AC Marriott. It's close to great restaurants and the streetcar.
You also have the option of staying at the Historic Congress Hotel. (SEE UPDATES BELOW)

Closer to campus, overlooking Main Gate Square is Tucson University Park Hotel. Just west of campus is the Aloft Hotel.

Again, there are a TON of hotel options, as well as Air BnB. Even Oro Valley and/or Marana could be an option but check travel times and make sure you figure out your parking before hand.
WEATHER:
Tucson weather is warmer than Las Cruces but evenings do get chilly. We are typically in the low to mid 60′s during the day and the low to mid 40′s during the evening.

I would keep an eye on the 10 day forecast but definitely plan on bringing a jacket and dress warm for the game. It starts at 3:30pm and it will definitely be a little chilly when the game is over. Layering is the key.


WHERE TO EAT:

You will not be at a loss when it comes to meal time. Tucson is, after all a World Gastronomy City according to UNESCO.
Whether you're staying in downtown, near campus, on the east side, up in Marana/Oro Valley…wherever it is, fantastic restaurants abound.

Keep in mind that mexican food is slightly different here than what we're used to back in Las Cruces.
Most of the "Best Restaurants In Tucson" lists that you'll find on Google are quite different in their opinions but I looked at the top 7 or 8 lists, and they are all spot on. It will just depend on what you're in the mood for and where in town you want to dine. (You'll see very familiar chain restaurants like Blake's and Whataburger if the kids need something homey.)
So – what are my picks? Tough call but my favorites include Zinburger (craft burgers), Caruso's on 4th (Italian), Kingfisher (seafood), HUB (downtown – american fare and ice cream), Wishbone (Iconic Tucson steak fingers, take away), and Poco and Mom's (2 locations, New Mexican mexican food).

Coffee wise – we have a TON of local shops. A TON. No matter where you are in town, you'll see a great local shop to pop into in the morning for your needed java jolt.
WHAT TO DO IN TOWN:
If you have time:

If you're coming with little ones, probably one of the best kid experiences is the Tucson Children's Museum in downtown Tucson.
If you're a hiker/biker/walker/runner, we've got you covered as well. Hop over to Visit Tucson's information on outdoor activities.
El Presidio in downtown will take you on a trip thru Tucson's history.

The Titan Missile Museum and the Pima Air and Space Museum, and the Boneyard might be of interest to you.
There's a lot to Tucson and, if you have the time, so much to see! Don't hesitate to get in touch if you have any questions about, well, anything. I'll do my best to answer them and/or point you in the right direction!

IMPORTANT UPDATES:
12/4/2017:
*It seems that the University Park hotel and the Marriott AC are now sold out of rooms. Rooms are going FAST. If you're coming, best book quickly.
*Here is the "Where's Everyone Sitting" map –